People Hiking Around the U.S.
In my research while preparing for the hike, I have discovered others' who are hiking around the country, or doing long-distance hikes for various causes. Be sure to check them out and see what they're up to!
Click on the links below:
Hiking for Water - Father & son team, Matt & Steven of Independence, MO hike the 2,178 mile Appalachian Trail to raise funds and awareness for Water for People to provide clean water to developing countries.

Our Hike - In 2006, Robin Grapa & Patty Laatsch walked across America to raise funds and awareness for research and patient education for Bone Marrow disease.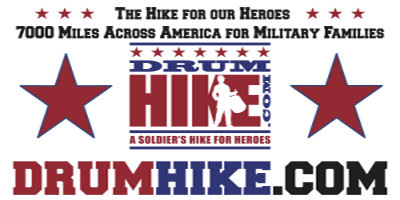 Drum Hike - Iraq War Veteran Troy Yocum is hiking 7,000 miles across America, banging his drum and sounding the call for $5 million to help military families in need.

Walking for Water - Nathan Phoenix Scott Gardner is walking to raise money for clean water My Charity Water
Walk Across America - The walk is scheduled to start in Los Angeles on February 3rd, 2011, to raise awareness one step at a time - suicide and depression in teens and young adults.
Vet Walking - Richard Hunsucker walks across America raising donations and bringing awareness to disabled American veterans, completed his walk on May 31, 2010.

Nick Walks - In 2008, Nick Moffatt walked across America to raise funds and awareness for the American Legion and the Royal British Legion.